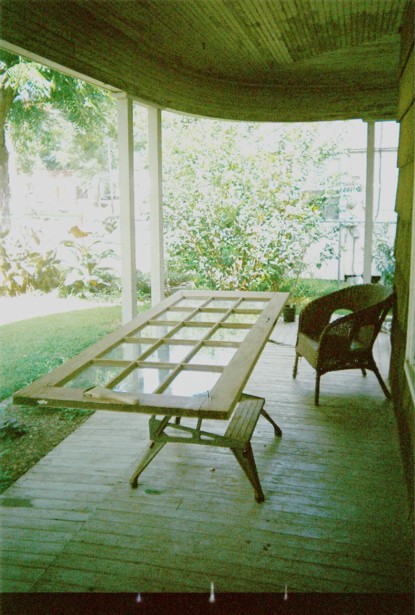 Collins House-1908. One of the original double french doors being stripped.
This house, a Queen Anne cottage which pre-dates the surrounding neighborhood, was built for John House Collins, son of Theophilius J. Collins, one of the original land holders of our area, and is one of the original houses on that land that is now Pecan Park, along with it's sibling on Parsons street, which is even older and dates from the 1890s. After Mrs. Collins, who had lived in the house apparently from it's first days around 1908, died in 1983, the house remained with the Collins family in near original condition. It was then sold in 1992 and experienced an overall "remuddling", meaning that the owner thought he was making improvements to the house, but actually did shoddy work and threw away many interior features that he thought had no value. It then became a rental and was used as a holding station for an illegal alien smuggling operation then sat vacant until 2002 when the current resident bought it and began the sssssllllllloooooowwwww process of restoring it to her original glory. Luckily, many original features remain.
This is an example of a Meditteranean style interior, a house style that was popular during the 1920s and 30s. There is one beautiful example of a similar style, a Spanish Mission(?), on Alta Vista street in the nearby neighborhood of Forest Hill. (this photo is not from Pecan Park).